England eventually ran out comfortable winners in this year's Home Nations Boat Championships held in Weymouth. However, it was far from plain sailing as on the last day drama saw the gold medal pendulum swing in the direction of a determined and experienced Welsh team who put in a super human effort on day two to get one hand back on the trophy, before England finally clinched a hard earned victory.
Day one saw England take an early 35% lead as the two six man boats virtually cancelled themselves out whilst England's Mike Patten won his boat emphatically by a 45% margin.
On day two as the boats returned, it was obvious that Wales had fought themselves right back into contention when the first boat home registered a 54% win for Wales courtesy of Chris Pucher and Rod Adamson. This was further endorsed when Wales Kevin Preston secured the three man boat with a 18% win to extend the Welsh lead. Welsh celebrations, however, had hardly begun when the third and decisive boat result came through, an incredible 77% win for England pairing Dave Mann and Steve Clements, restoring an overall victory for England by 38%.
Last year's winners, Ireland battled hard, but were eventually out gunned by England and Wales. Final results: England 852%, Wales 814%, Ireland 557%. Congratulations go to the England team of Dave Mann (top individual), Mike Patten, Steve Clements, Mark Smith (new cap), Richard Russell, Rob Shattock (reserve) and Manager Ray Ashby.
Weymouth skippers Richard English (Lone Shark), Colin Penny (Flamer) and Dave Gibson (Meerkat) have to be congratulated for getting the teams among the fish which included two plaice over 6lb, numerous double figure Huss, quality bass , bream, congers, gurnard, dogfish, Pollack, wrasse and smooth hound.
The only disappointing note was the absence of a Scottish team for the second year in succession. We need you back Scotland so that this event can continue to provide a valuable introduction to International angling for our UK anglers of the future as it has done for the past thirty years.
Thanks are extended to sponsors Tronix (George Cunningham) for their continued support of the England Teams (both Senior and Youth), and Steve Porter of Poole based True Blue who gave such support during the teams' build up to this win. The teams look forward to 'crossing lines' once again next year when Wales are hosting the Championships in Holyhead.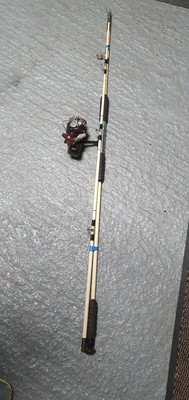 Vintage Edgar Sealey Sea Wolf Rod Boat Fishing Made In England Daiwa reel
Item condition: Used
Ended: Jun 17, 13:08 GMT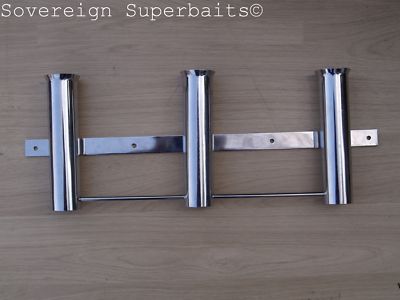 BOAT Rod Rack Rod Storage Stainless steel 3 rod storage Rack. MADE in ENGLAND.
Item condition: New
Ended: Jun 22, 07:45 GMT
Free shipping