12 schemes to help children fish are funded under Youth Grant Scheme
Twelve schemes which encourage young people to take up fishing are to receive a major funding boost from EFTTA.
Every year, EFTTA uses its Youth Grant Scheme in conjunction with its members to make thousands of euros available for fishing projects throughout Europe.
Members offer their own financial support to projects and EFTTA boosts contributions up to a total of €40,000, making more than €80,000 euros available.
Before applying for a grant from EFTTA, all applicants must find a corporate sponsor from one of EFTTA's members. If successful, EFTTA will match the sponsorship from each member up to a maximum of €2,000 per project.
EFTTA members who sponsor schemes are also responsible for administering the spending of the EFTTA grant on the particular project. They can either purchase fishing tackle products on the applicant's behalf or award a cash grant if more appropriate.
EFTTA President Gregg Holloway, said: "We are delighted to be supporting these worthwhile initiatives. The future of fishing across Europe depends on encouraging youngsters into the sport and EFTTA and its members are very proud of the part we play in promoting angling through the Youth Grant Scheme."
The 12 schemes which are to receive funding are:
Get Hooked on Fishing Charitable Trust (UK) – a charitable trust aiming to engage young disadvantaged people in alternate activities such as fishing. It aims to help those at risk from crime, drug use and other forms of social exclusion by promoting angling. The scheme was sponsored by Shakespeare and the money will be used to fund new projects in Wales, Norfolk, Dorset, Yorkshire, East Midlands and London.
Spofa Spofiske (Sweden) – a scheme from the Swedish Trade Association which produces a series of DVDs showing how to fish and is aimed at encouraging young people to get involved in sport fishing. The money will fund the DVD production.
Stichting Belangenbehartiging Karpervisserji (Benelux) – Carp Fishing in a Responsible Way: A project to make an educational movie for the young and upcoming carping anglers in the Netherlands and Belgium in Dutch. The movie will show how to fish responsibly and respectfully. The DVD will be made available free of charge.
The scheme has been sponsored by Lodex, Ultimate Hengelsport, Waterland Baits, The Carp Collector Shimano Europe. The grant will allow additional copies to be produced and distributed.
Wessex Angling Scheme (UK) – Angling Instruction for Youngsters:
Teaching mainstream and disadvantaged school children elements of game and coarse angling which aims to impart social skills and promote angling to youngsters.
The scheme has been sponsored by Hardy & Greys, with grant funding for angling equipment such as rods and reels.
South Moor Angling Club (UK) – A Junior Angling Club for deprived young people who cannot afford to buy their own angling equipment in Durham with the aim to divert young people from crime and anti social behaviour.
The scheme has been sponsored by Hardy & Greys, with funding for new equipment and residential courses for the children.
Bezirksjugendleitung Fischereiverband Oberbayern (Germany) – A youth apprenticeship camp for 400 youngsters, fly fishing and fly casting seminar with the aim of teaching the characteristics of individual species and respect for the environment.
The scheme has been sponsored by Rudi Heger GmbH, Traun-River-Products with funding for 40 sets of fly fishing equipment
Finnish Federation for Recreational Fishing: Let's Learn to Fish (Finland) –
A coach will be employed to tour schools in the Häme district and teach a range of fishing techniques and then to set up fishing schools and clubs for the youngsters who take up the sport. It aims to increase the number of young recreational fishermen in Finland.
The scheme has been sponsored by Finlandia Uistin, Kuusamon Uistin, Rapala VMC and Vision Group, with funding for a coach's salary and the printing of an A5 booklet.
Sportfiskarna: School Angler (Sweden) – Local fishing clubs will work with schools to arrange fishing trips and teach pupils about water ecology and angling. It will include both theory and practice sessions.
The scheme has been sponsored by Spofa Spofiske with funding for fishing tackle and local teaching activities.
Sportfish Junior (Serbia) – Children from small villages in Serbia and Montenegro will be taught to fish and the local authorities lobbied to improve and maintain the aquatic environment. The aim is to make an educational centre for children to keep them off the streets and away from drugs and crime.
The scheme has been sponsored by Mont Press, Yu Hung, with funding for literature printing.
National Federation of Anglers Angling for an Education (UK) – A scheme to provide coaching for 15 organisations which work with young people including schools, youth groups and voluntary groups, to create a sustainable angling presence through the National Federation of Anglers education and coaching programme.
The scheme has been sponsored by Hardy & Greys, with funding for seven coaches to teach young people at seven organisations for the scheme.
Watercourse Foundation North Rhine Westphalia: Goodparenthood for Salmon (Germany) – School children from the River Sieg region will learn about the re-introduction programme for the threatened salmon species and will participate in releasing the young salmon parrs.
The scheme has been sponsored by Monofil Technik. The funding will help complete the capital required for the programme.
Angling for All Kings Lynn Ltd: Delivery Project (UK) – Three PAA level 2 angling coaches will offer angling coaching to schools and youth clubs on a non profit making basis in an area of high social deprivation.
Funding will be used to promote the scheme locally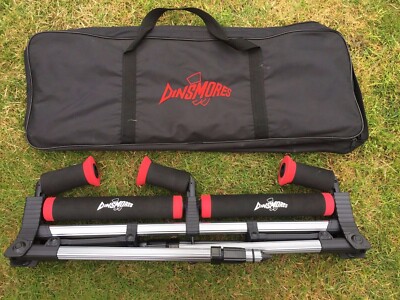 Dinsmores 'FLAT POLE ROLLER' - Adjustable Legs - Cool colour scheme - NEVER USED
Bids: 7
Item condition: New other (see details)
Ended: Jun 16, 20:54 GMT
5 Fully Assembled Bass Fishing Rigs (Texas Rigs)
Item condition: New
Ended: Jul 4, 14:58 GMT