Honda Marine has completed the enhancement of its mid range of outboard engines, with the addition of its exclusive BLAST™ (Boosted Low Speed Torque) and ECOmo™ (advanced lean burn fuel control) technologies to the BF135 and BF150.
As part of a package of measures which improve fuel economy whilst maintaining performance, the enhancement of these models completes Honda's move to extend BLAST™ and ECOmo™ to all of its models from the 40 horsepower BF40, up to its largest, the BF225.
Combined with Honda's unique PGM-Fi™ technology, the result is powerful performance throughout the engine operating range, greatly improved hole-shot speed during periods of rapid acceleration from low and mid engine speeds, and excellent fuel economy at cruising speeds.
The new BF135 and BF150 also feature a completely revised ECM, and continue the lead of other recent Honda launches in being compliant with latest international NMEA 2000 standards; making them compatible with the increasingly wide variety of sophisticated electronic display equipment becoming commonplace on all types of craft.
Phil Webb, Head of Power Equipment for Honda (UK) commented:
"Customers are increasingly looking for the performance and reliability that Honda has always been known for, but with an ever growing eye on their pocket and the environment. As a leader in environmental innovation, we are delighted to now be able to offer a wide choice of outboards which deliver superb acceleration but with modest fuel economy. The arrival of the revised BF135 and BF150 therefore complete a range which was always best in class, but just got better."
The new models will be available across Honda (UK)'s network of Authorised Marine Dealers from October, prices start from £11,545.00 for a BF135 and £12465.00 for a BF150. Both new models will enjoy an industry-leading six year domestic and two year commercial warranty, as well as free RYA Level 2 Powerboat training.
For more information on Honda's comprehensive range of outboards and inflatables please visit http://www.honda.co.uk/marine or call 0845 200 8000.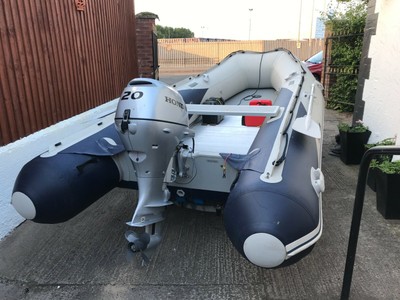 Honwave T40 RIB with Honda BF20 engine
Bids: 12
Item condition: Used
Ended: Jul 4, 20:31 GMT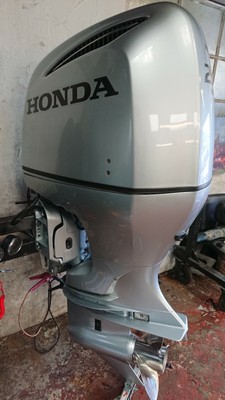 Outboard Honda BF250hp EFI Long shaft for Power boat, fishing boat Rib boat
Item condition: Used
Ended: Jul 27, 08:31 GMT