Humminbird Side Imaging Sonar has won the award for Technical Innovation of the Year at the Fishing News Awards. The Award was presented to Andrew Dron of Johnson Outdoors UK by Charles Kennedy MP at the Balmoral Hotel in Edinburgh in front of a prestigious audience from across the UK fishing industry.
"We were up against some strong opposition in the Technical Innovation category and we are delighted to win such a major Award," commented Andrew Dron. Awards in other categories included the Safety Award of the Year and the Young Fisherman of the Year. The latter included fishermen who had taken part in the dramatic BBC television documentary series Trawlermen and Andrew Dron added. "It was humbling to be in the same room as people who battle North Sea gales to catch fish and we're pleased to contribute any technology which hopefully makes their lives a little easier and more profitable."
This is the second award for Humminbird Side Imaging Sonar this year. At the Seawork International exhibition in Southampton, Humminbird Side Imaging Sonar won the Innovation Award for Marine Electronics.
About Humminbird's Side Imaging Sonar
Humminbird's unique side imaging sonar gives outstanding pictorial images of the seabed scanning up to 240 feet either side of the boat. These detailed images of the underwater topography are shown on a high resolution screen and units also have a split screen facility so navigation charts and sonar side imaging pictures can be viewed at the same time. Units have colour displays and full GPS and chartplotting capabilities. Display sizes of 5", 8" and 10" are available.
With Humminbird Side Imaging Sonar, transducers are simply mounted on the transom or inside the hull. Other more expensive side scan systems require underwater devices housing transducers to be towed through the water. Humminbird side imaging units are easy to install and operate and no vulnerable towing lines need to be deployed or retrieved. Prices start at £999.99.

Humminbird side imaging technology is used by fishermen, mariners, divers, and the Emergency Services. And anglers!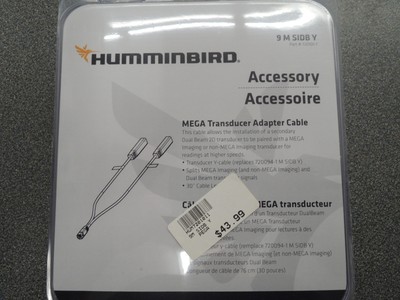 Humminbird 9 M SI DBY side imaging dual transducer y-cable fishfinder GPS
Item condition: New
Ended: Jun 20, 21:05 GMT