Sea anglers who sell their catch for profit to the catering industry are being highlighted in a new campaign.

The Marine Management Organisation (MMO) is working with other bodies including the Food Standards Agency and the British Hospitality Association to provide guidance to the catering industry around illegal and potentially harmful seafood supply chains.
They are seeking to raise awareness of the laws around purchasing of fish and shellfish products and also the fact that unsafe shellfish harvested by gangs, protected juvenile lobsters and crabs and fish caught by anglers from unlicensed, unregistered fishing vessels may be being offered for sale direct to caterers.
Under the Registration of Buyers and Sellers (RBS) Scheme 2005, which is enforced in England by the MMO, it is a criminal offence to buy fish caught from a boat which is not licensed or registered for commercial fishing.
As part of the campaign, the MMO is asking anyone with information about recreational anglers selling their catch for commercial gain to contact them.
Rod Henderson, Head of Coastal Operations for the MMO, said:
"We know the majority of the recreational sea angling community is honest and return the bulk of their catch alive, but we are aware of some who fish for profit not sport. Unreported fishing can affect the long-term viability of fish stocks and it is important we work to protect these important resources for future generations.
"We've received allegations of non-commercially registered sea anglers fishing for cod on boats off the Yorkshire coast and selling this to care homes. We have also had reports of people catching skate and selling this direct to restaurants and cafes on the South East coast. Bass is another species which is also reported to us as being offered for sale illegally, particularly on the South coast.
"If anyone suspects similar activity I'd urge them to let their local MMO or IFCA office know."
More information on the campaign is available from www.bit.ly/rbs-campaign and anyone with information can call 0300 123 1032 or email [email protected]. Any information received will be treated in confidence.
Single Leg Rings (Eyes) Quality Lined Guides Coarse Carp Sea Spinning POST FREE
Item condition: New
Free shipping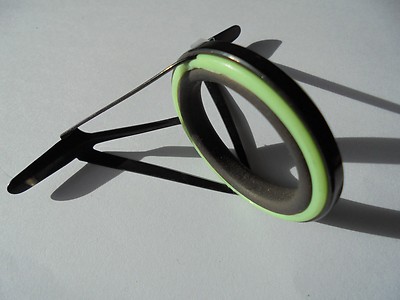 med black with green shock ring beachcaster butt eye 20mm i/s diameter 32mmO/S