Recreational sea anglers have been inaccurately and unfairly targeted by the Marine Management Organisation (MMO) in its campaign to highlight the illegal selling of catches (read their email press release below).

The selling of fish caught from an unlicensed or unregistered motorised vessel – irrespective of the method used – is illegal. Recreational anglers do not sell their catch for commercial gain but fish for sport or personal consumption.
However, anyone who catches fish from an un-motorised boat or from the shore, regardless of method used, is legally entitled to sell their catch for profit.
The Angling Trust, the national representative body for sea anglers in England, is astonished that the MMO chose to misrepresent the recreational sea angling sector in a press release issued on August 20th publicising its 'Get Illegal Seafood Off The Menu' campaign – especially at a time when Defra and government agencies are trying to build trust with the sea angling community.
The Angling Trust fully supports any efforts to clamp down on illegal and unreported commercial catches whether they come from licensed or unlicensed vessels.
However, a loophole in the Registration of Buyers and Sellers (RBS) Scheme 2005 allows the legal sale from a licensed vessel of up to 25kg per transaction to go unreported, providing the fish is for private consumption and not for resale.
The MMO has been unable to confirm the extent of these sales and the impact that this loophole might be having on fish stocks and the accuracy of the MMO's landings data.
David Mitchell, the Angling Trust's Marine Environmental Campaigns Manager, said:
"It defies belief that the MMO has labelled recreational angling as a source of illegal sales of fish. Recreational anglers by definition don't sell their catches. If the MMO wants to address illegal sales of fish then enforcement should be focusing on all types of illegal commercial fishing. We suggest the MMO seeks the co-operation of the NFFO and other commercial fishing representatives in identifying illegal selling of fish and those responsible.
It's not clear whether the focus of the MMO's campaign is to protect fish stocks or to address potentially harmful seafood supply chains; either way, it appears to be using anecdotal information to inaccurately describe rod and line fish being sold by recreational anglers rather than illegal, unlicensed commercial fishers.
Had the MMO bothered to inform us of their intentions beforehand we would have been able to help bring these errors to their attention".

The Angling Trust is recommending that the MMO:
Looks at the loophole in the RBS scheme which currently allows potentially very significant amounts of fish to be legally unreported.

Focuses on the illegal sale of fish from all sources of illegal fishing.

Provides evidence, rather than anecdotal allegations, of the illegal sale of rod and line caught fish.

Engages with the Angling Trust before launching campaigns that affect the recreational angling sector.

Become better informed about the laws before seeking to raise awareness of them amongst others.

Should urge commercial fishing representatives to ensure that all commercial fishing vessels are licensed and acting within the law.
The Angling Trust will be seeking evidence from the MMO on the extent and impact the illegal sale of rod and line caught fish is having on stocks. In the mean time we will defend the recreational sea angling sector from being misrepresented as illegal commercial fishing.
Anyone who wishes to contact the MMO to let them know that recreational sea anglers are not the cause of the problem should contact the MMO at [email protected]
Issues such as this demonstrate the importance of having a strong voice for angling. Please spread the word. Join at www.anglingtrust.net or call 0844 77 00 616 (Option 1)
THE ORIGINAL EMAIL FROM THE MMO IS COPIED BELOW:
Marine Management Organisation
Monday 20 August
ILLEGAL SELLING OF CATCH HIGHLIGHTED
Sea anglers who sell their catch for profit to the catering industry are being highlighted in a new campaign.
The Marine Management Organisation (MMO) is working with other bodies including the Food Standards Agency and the British Hospitality Association to provide guidance to the catering industry around illegal and potentially harmful seafood supply chains.
They are seeking to raise awareness of the laws around purchasing of fish and shellfish products and also the fact that unsafe shellfish harvested by gangs, protected juvenile lobsters and crabs and fish caught by anglers from unlicensed, unregistered fishing vessels may be being offered for sale direct to caterers.
Under the Registration of Buyers and Sellers (RBS) Scheme 2005, which is enforced in England by the MMO, it is a criminal offence to buy fish caught from a boat which is not licensed or registered for commercial fishing.
As part of the campaign the MMO is asking anyone with information about recreational anglers selling their catch for commercial gain to contact them.
Rod Henderson, Head of Coastal Operations for the MMO, said:
"We know the majority of the recreational sea angling community is honest and return the bulk of their catch alive, but we are aware of some who fish for profit not sport. Unreported fishing can affect the long-term viability of fish stocks and it is important we work to protect these important resources for future generations.
"We've received allegations of non-commercially registered sea anglers fishing for cod on boats off the Yorkshire coast and selling this to care homes. We have also had reports of people catching skate and selling this direct to restaurants and cafes on the South East coast. Bass is another species which is also reported to us as being offered for sale illegally, particularly on the South coast.
"If anyone suspects similar activity I'd urge them to let their local MMO or IFCA office know."
More information on the campaign is available from www.bit.ly/rbs-campaign and anyone with information can call 0300 123 1032 or email [email protected] Any information received will be treated in confidence.
Single Leg Rings (Eyes) Quality Lined Guides Coarse Carp Sea Spinning POST FREE
Item condition: New
Free shipping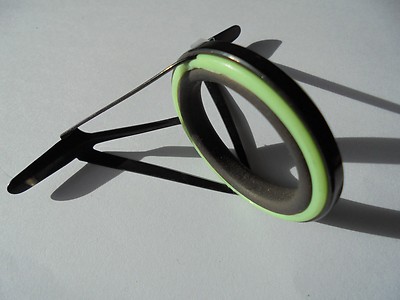 med black with green shock ring beachcaster butt eye 20mm i/s diameter 32mmO/S