NEWS RELEASE
www.sunglassesforsport.com, the online retailer of sports sunglasses and eyewear, has just released the all-new Evolution Reef interchangeable model with 3 polarised lenses, including a yellow polarised. At just £44.95, including free UK delivery, Sunglasses For Sport claim this is the lowest priced interchangeable set with 3 polarised lenses available in the UK.
The Reef model is available with a high quality, durable frame in black or "camo" colour options. The 3 lenses supplied are polarised grey, polarised amber and polarised yellow. These 3 colours will cater for all light and weather conditions. Polarised yellow is popular with fishing enthusiasts but very few models on the market feature this option. Lenses are made from shatterproof polycarbonate and all 3 are UV400 rated – giving maximum protection from harmful UV radiation. Lens changing is very simple and full instructions are provided.
The Reef model is supplied with a soft carry pouch, cleaning cloth and hard case. With free UK delivery it's exceptional value.
To see the new Reef model, and buy online, visit the fishing section at: www.sunglassesforsport.com
Costa Del Mar SPEARO Matte Reef Green Mirror Sunglasses 580G Glass SPO253 OGMGLP
Item condition: New with tags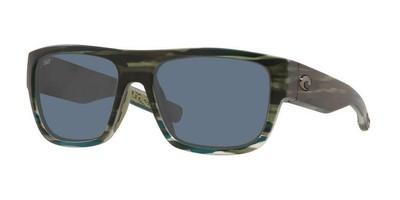 Costa Sampan Matte Reef Grey Lens 580G
Item condition: New with tags
Ended: Jul 30, 14:51 GMT