Lowrance, a world-leader in marine electronics
innovation, has raised the bar in fish-finding technology with the
introduction of its next-generation SONAR, the Broadband
Sounder-1.

Based on the high-speed, Lowrance
Ethernet network, the new Broadband Sounder-1 delivers unprecedented
echo clarity and the highest underwater definition ever achieved. The
module digitally enhances and separates fish, structures, thermoclines
and the bottom composition, while eliminating surface and turbulent
water clutter to better mark targets.
"When you
see what Lowrance Broadband Sounder technology can do, you won't
believe your eyes," said Gordon Sprouse, Director of Marketing at
Lowrance. "From shallow-water conditions to extreme ocean depths, the
results are quite amazing."
An advanced
plug-and-play Ethernet module, the Broadband Sounder-1 sits between the
transducer and the display. When fitted in conjunction with the Navico
Expansion Port-1 network switch the unit can be shared by up to four
compatible Lowrance display devices (including 2007 GlobalMap units),
via the Lowrance Ethernet network.
The module is
compatible with all Lowrance 2007 models with 5" and larger colour
displays and a 5-pin yellow Ethernet connector. The Broadband Sounder-1
works with all compatible Lowrance transducers – Skimmer®, pod, shoot-
or bolt-through hull – and accommodates all transducer frequency
ranges. The enhanced digital Broadband Sounder-1 features a nominal
output power of 250-watts peak-to-peak (31-watts RMS), with an analogue
output power equivalent of 30,000-watts peak-to-peak (3,750-watts
RMS).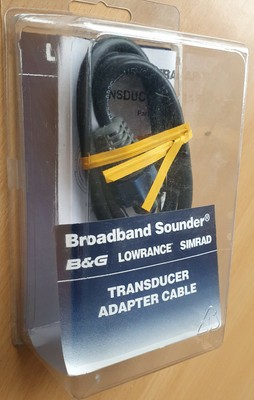 Transducer Adaptor HDS/NSE/Broadband Sounder Module 000-10046-001 
Item condition: New
Ended: Jun 14, 11:24 GMT