Reading West MP, Martin Salter, who was
recently appointed Vice Chair of the Labour Party for the Environment,
has welcomed new Prime Minister Gordon Brown's announcement that the
government are considering publishing a draft Marine Bill in the next
Parliamentary session.
The Prime Minister included the reference to the Marine Bill in
the Government's Draft Legislative Programme, published on Wednesday.
The announcement follows lobbying for a Marine Bill by the Wildlife and
Countryside Link, a coalition of the UK's major voluntary organisations
concerned with the conservation and protection of wildlife, the
countryside and the marine environment, which represents 8 million
people in the U.K
Mr Salter is the primary
sponsor of House of Commons Early Day Motion 1833 Marine Bill (No.2)
which argues for a new approach for the management and protection of
the U.K.'s marine resources, wildlife and cultural heritage. The EDM
also presses for the Marine Bill to be based on a system of spatial
planning to reduce conflict between the many users of these seas and
includes reform of inshore fisheries. It calls on the government to put
protection of wildlife at the heart of marine policy through measures
including the designation of a network of marine conservation
zones.
The cross-party EDM was
tabled only a week ago, but has already been signed by over fifty MPs.
To raise awareness of the campaign and to thank the MPs who have
already signed, the RSPB campaign came to London on Wednesday 11th
July. They brought a giant, inflatable two-metre replica of a puffin to
highlight the fact that the UK's coastline is home to 18 exclusively
coastal species of seabird, including puffin, gannet, kittiwake and
guillemot. The great skua, Manx shearwater, gannet and shag
have their most important populations in the world in the UK.
Martin Harper, Head of Sustainable Development, RSPB
said:
"Increasing protection for marine wildlife
has been an outstanding commitment for this government over the last
decade. We have been greatly encouraged by the public and cross-party
support we have received for a Marine Bill. We owe it to everyone who
believes in greater protection for the marine environment to continue
our fight. We have been given hope, as a draft Marine Bill is being
considered for the Queen's Speech, that we will have comprehensive
marine legislation by the next general election."
Martin Salter said:
"I am delighted that
Gordon Brown has indicated the government's support for the much-needed
Marine Bill. By publishing the Bill in draft there will be an
opportunity for full scrutiny of the proposals which will help us to
produce successful and sustainable measures to protect the seas for
future generations. There has been a huge groundswell of public support
for a Marine Bill, as shown by the success of the campaign by the
Wildlife and Countryside Link. However, I believe that it may be
possible to go further and include the implementation of the Salmon and
Freshwater Fisheries Review of 2000 and other measures. This is a once
in a generation opportunity for comprehensive legislation protect our
fisheries and the marine environment and it is important that we get it
right."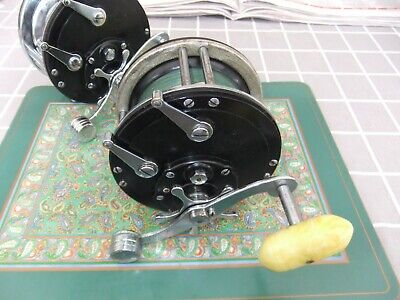 PEN MARINER 49 SEA REEL - NOTE HANDLE STIFF NEEDS ATTENTION - NO 2
Item condition: Used
Ended: Jul 7, 18:39 GMT