European Premier
British Leisure Show
19th to 21st March 2010 at the Royal Windsor Racecourse
Lindon Lewis Marine are please to introduce the latest edition to their Polar Kraft range to the showroom at their Boat Sales Headquarters on the Thames at Shepperton Lock.
This sleek, bass boat has plenty on board to attract the serious recreational angler, plus a passenger capacity of four to appeal to family days out on the water. At 500kg, it's towable behind most vehicles, meaning it saves fuel on the water and on the road too.
The TX 175 PRO at 17'6" in length and a beam of 84", can comfortably accommodate up to four passengers with a maximum power rating of 75hp, but was designed from the outset to offer good performance with an economical 50hp outboard.
The all-welded aluminium hull bottom features six longitudinal stringers, extruded V-stem reinforcement, and heavy-duty extruded aluminium gunnels which enhance riding comfort, reduce hull stress and increase its durability.
Since 1951, Polar Kraft boats have been designed and engineered by highly skilled craftsmen that are passionate about fishing. Polar Kraft is manufactured by Godfrey Marine, one of the largest recreational boat manufacturers in North America. Lindon Lewis Marine are the sole UK & Ireland importer & distributor for Polar Kraft and available through our growing network of regional dealers.
For further information, brochures or to book a viewing, please call Lee Gibbons on 01932 254844 or email [email protected].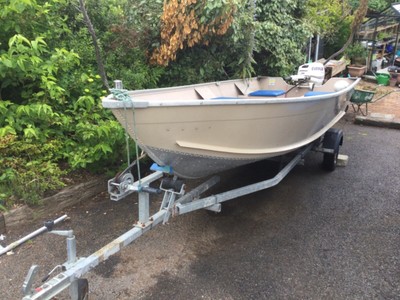 POLAR KRAFT 1670L ALUMINIUM BOAT
Bids: 28
Item condition: Used
Ended: Jun 15, 18:14 GMT