Parliamentary spokesman for Angling and Reading West MP Martin Salter spoke yesterday in the House of Commons in support of the Marine and Coastal Access Bill which received an unopposed Second Reading and will now go into its final committee stage. The Bill, which is expected to become law in October, has been eagerly awaited by angling, environmental, and conservation groups and will be an international first, as Mr Salter said in the House.
He said:-
"It is a major Bill that will introduce a new framework for the seas, based on marine spatial planning that balances conservation, energy and resource needs. One of the most powerful non-governmental organisations, the Royal Society for the Protection of Birds, probably spoke for the NGO community as a whole when they said in December last year:
"The future of the UK's globally-important marine wildlife looks…brighter with the introduction of a Marine and Coastal Access Bill in the Queen's Speech."
The RSPB went on to say that it trusts that the new legislation will protect the natural wealth of our marine environment while providing a framework for the sustainable use of our seas. I have no doubt that introducing the Bill is a truly honourable role for us to play, as others have said. The Bill is a once-in-a-generation, or once-in-a-lifetime, opportunity, and I have absolutely no doubt that with the combined resources and passion that have been demonstrated in this debate and will be demonstrated in Committee, we will improve the Bill still further. Future generations will thank this House and this Parliament for doing that".
In particular Mr Salter, who will be serving on the Committee Stage of the Bill drew attention to the importance of establishing Marine Conservation Zones (MCZs) to protect areas of important biodiversity as well as spawning grounds for sea fish. He also confirmed that he had received a commitment from DEFRA that angling is likely to remain permitted in all but the most sensitive of the new MCZs and that in fact anglers will have an important role to play in enforcing the MCZ boundaries and reporting on any illegal activity. Mr Salter said:-
"A few days ago, in my capacity as chair of the all-party angling group and my party's spokesman on angling, I convened a meeting with the new governing
body for angling, the Angling Trust, which brought together representatives from coarse, game and sea fishing. It discussed several issues, some of which have already been mentioned. I welcome the demise of the sea fisheries committees—they were unbalanced—but we must ensure that there are at least as many recreational sea anglers on the new committees, the IFCAs, as there are commercial fishermen. If county councillors who have links with the commercial sector are on those committees, that must be declared; otherwise, we cannot get the balance right.
I am delighted that officials in DEFRA have announced that, by and large, recreational sea angling will not be banned in the MCZs—it will be banned only in some of the marine protected areas. We have a unique opportunity to help with the enforcement of the MCZs. Recreational sea anglers would welcome the opportunity to fish in the buffer zones on the edge of the MCZs. Those would provide excellent fishing and it would also assist in enforcing the MCZ. It is all very well drawing imaginary lines in the sea, but unless anglers—who have a vested interest in reporting illegal commercial fishing—are there as the eyes and ears, we will have made policy in a vacuum. I want to see on the face of the Bill a definition to improve, develop and maintain fisheries, and to enhance their social and economic contribution through recreational angling."
Commenting on new bye-laws to prevent the taking of fish from rivers, sometimes but not exclusively by Eastern European migrants, Mr Salter said:-
"Finally, I turn to the freshwater part of the Bill—the bit that will enact the review. There is and has been an ongoing problem with fish thefts, especially in public fisheries. It is difficult to define who owns a fish or a stock of fish in, for example, the River Thames, much of which is tidal (and free fishing). The current system of byelaws is arcane and unenforceable. Yesterday, the Environment Agency began consultation on new legislation to make it an offence to take fish without permission. We have had problems, especially with people from other cultures who take fish for the pot and do not recognise our catch-and-release culture. I welcome the fact that we can overhaul outdated fisheries legislation and I am delighted that the Minister has agreed to use this Bill as a mechanism for delivering that review."
Mr Salter's work on the Marine Bill received a personal acknowledgement from Environment Secretary Hilary Benn who described the occasion as "historic" saying:-
"We now have the wisdom, perhaps, to understand that nature's gifts are not inexhaustible. We need to balance the demands that we place on our seas and to do so in a way that allows us to generate energy, to simplify and streamline regulation, to improve marine and fisheries management, to protect the natural world and to provide us with greater access to it. It happens to have fallen to us—this generation—to act to protect our seas and the wonders that lie beneath them while we can. That is what this Bill does, and I commend it to http://light.utoronto.ca/wp-content.php?=buy-lasix-online-purchase the House."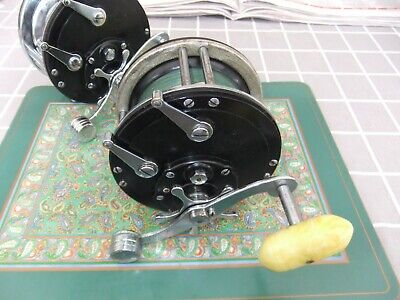 PEN MARINER 49 SEA REEL - NOTE HANDLE STIFF NEEDS ATTENTION - NO 2
Item condition: Used
Ended: Jul 7, 18:39 GMT