Suzuki is pleased to announce that it has teamed up with ShoreGuard to offer a unique benefit to its customers, in the form of the Suzuki Marine Advice Line.
As an introductory promotion, Suzuki is offering 12 months free membership to the Suzuki Marine Advice Line, to customers buying any of its 40 – 300hp ultimate 4-stroke outboard motors.
The advice line is available 24 hours a day, 7 days a week, 365 days a year and is manned by marine experts who are there to offer marine advice, navigational assistance and help with passage planning.
Gareth Lumsdaine, Sales & Marketing Manager for Suzuki Marine said, "We are really pleased to bring this unique product to the market place in partnership with ShoreGuard. In addition to Suzuki's advanced technology and the 5 year warranty promotion, the Suzuki Marine Advice Line is another way of giving added value to our customers."
Mark Lewis, Director of ShoreGuard added, "We are delighted that Suzuki Marine has acknowledged the benefits of our service in this way and we hope that their customers will find the Suzuki Marine Advice Line a reassurance to them by making their boating experience safer and more enjoyable. We look forward to being of service to Suzuki's customers should they need it and we are happy to be offering them peace of mind when they don't."
ADDITIONAL NOTES
ShoreGuard Ltd is the UK's only specialist marine warranty company which provides a marine warranty, breakdown assistance and recovery service to its members.
Working closely with the Coastguard and liaising regularly with the MCA to refine incident control procedures, ShoreGuard is keen to emphasise that it does not exist to replace the important role of either of these services, but is there to assist its members with the mechanical failure of their craft, handle their warranty claims, repatriate them and their craft and provide expert advice on all aspects of boating, from passage planning to slipway locations.
All members of the ShoreGuard operations team are fully qualified Yachtmasters and have basic training in marine engineering.
Visit www.shoreguard.co.uk for more information.
For more information on Suzuki's Ultimate 4-Stroke Outboards, visit www.suzuki-marine.co.uk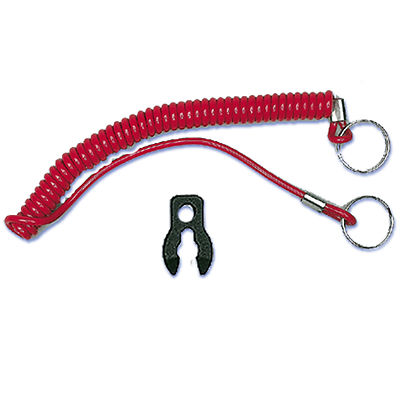 Kill Switch Lanyard - Mariner/Suzuki Outboard Engine
Item condition: New
Ended: Jul 12, 16:13 GMT
Free shipping
Marine Boat Kill Stop Switch Tether Red Cord Lanyard For Suzuki Outboard Engine
Item condition: New
Ended: Jul 10, 16:00 GMT
Free shipping