There aren't many reels that are equally as comfortable on the tournament casting field as they are on the beach, but many claim that's exactly the case with the Abu 6500I TSR.
Stunning to look at, the 6500I TSR from Abu Garcia has really set tongues wagging. Its ceramic hybrid bearings and mag brake system allow for a smooth, long-distance cast, whether on the field or with a baited rig on the beach.
With its one-piece aluminium frame and purple sideplates, it's a real looker. That said, this multiplier can back up its looks with unrivalled performance.
The Abu Garcia 6500I TSR takes the Abu 6500 range to new limits and should enhance your casting, whatever level you're at. As any angler knows, distance can sometimes mean the difference between success and failure. Remove all doubt with an Abu 6500I TSR.
Recommended Price: £199.99
Supplier: Fishtec
CLICK HERE FOR MORE INFORMATION
PLEASE NOTE: At the time of writing, you could claim a 5% discount off the Abu 6500I TSR. CLICK HERE for more information.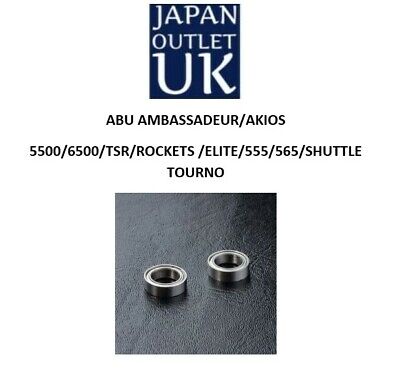 ABU  6500 5500 TSR ROCKET  ELITE - AKIOS 555 656  SHUTTLE TOURNO ABEC 7 BEARINGS