The Angling Trust today launched a campaign strategy to highlight the concerns of Britain's 3 million anglers in the run-up to the General Election.
The comprehensive strategy includes calls for the government and its agencies to:
• Protect fish stocks from commercial overfishing by reforming the Common Fisheries Policy and enforcing existing legislation;
• Implement the Water Framework Directive to address diffuse pollution, low river flows and habitat damage;
• Allow greater controls of cormorants by anglers suffering excessive fish predation on their waters;
• Provide more accountability about how anglers' £26million from freshwater rod licences is actually spent;
• Stop the march of non-native invasive species such as signal crayfish, giant hogweed and floating pennywort;
• Ensure that none of the thousands of new hydropower installations planned on our rivers damages fisheries;
• Protect the rights of anglers to go fishing and to access piers, ponds and to park near beaches;
• Support efforts to encourage more people to get into fishing;
• Protect fish from diseases imported from abroad.
Angling is more popular than ever, with freshwater rod licence sales soaring last year to 1.5 million from 1.3 million in the previous year. The Trust is aiming to sustain and continue this growth and ensure that there are plenty of fish to catch and safe and clean places for people of all ages to catch them.
Six Members of Parliament recently signed up as Parliamentary Supporters of the Angling Trust, the organisation which represents anglers in England, at a meeting of the All Party Angling Group at the House of Commons. The Group is chaired by Martin Salter MP (Reading West), a long-standing supporter of the Trust and the Labour party spokesman for angling and shooting and includes Richard Benyon (Newbury), the Conservatives' fisheries spokesman.
Mark Lloyd, Chief Executive of the Angling Trust said "We are very grateful to these busy Members of Parliament for agreeing to support the Angling Trust. Millions of anglers in England need a listening ear in Parliament to hear their concerns about pollution, over-abstraction, commercial over-fishing at sea, access restrictions and a host of other issues which affect the quality of our sport."
Mike Heylin, Chairman of the Angling Trust said: "We look forward to working closely with these parliamentarians to ensure that the anglers' voice is heard. In the run-up to the General Election, the Angling Trust will be working hard to ensure that issues affecting the nation's anglers are taken on board by candidates of all political parties."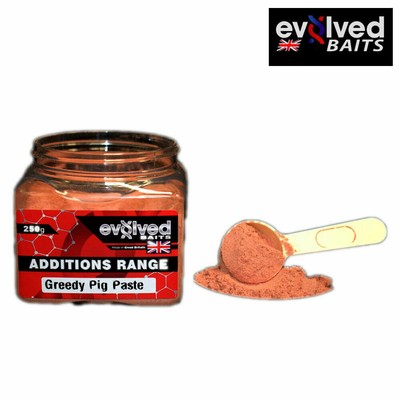 Evolved Baits Greedy Pig Paste. 250g Additions Angling Fishing
Item condition: New
Ended: Jun 18, 15:01 GMT
Free shipping