Honda Marine has completed the first phase of its boatbuilder alliance programme, through an exclusive partnership with Ribcraft to launch the 500 Sport.
Fitted exclusively with a Honda BF50 or BF60 and sold through Honda's Authorised Dealer network, the Ribcraft 500 Sport has been designed specifically with British waters and usage in mind. Built collaboratively to deliver exceptional levels of handling and durability and to complement the Honda engine, the 500 Sport offers exceptional value in terms of power, performance, usability and fuel economy.
The 500 Sport is a new model based on the lines of the Ribcraft 4.8 Professional, but adapted for more family leisure usage with a choice of layout for up to four adults using console and bench seating. British-built, it is the first Ribcraft to use the new Resin Transfer Moulding Technique, which along with other cutting edge manufacturing technologies ensures a consistently high quality product.
This partnership with Ribcraft means that Honda Marine now has alliances in the three core categories of RIB, sports/leisure and fishing craft, as the result of a focus on working with leading boatbuilders to meet the increasing customer demand for one-stop marine packages. Honda works with select partners where there is a mutual desire to produce premium solutions; in line with the high standards that customers have come to expect of Honda products and accessories. These packages are sold exclusively through Honda's network of selected authorised marine dealers.
In the sports/leisure market Honda works with Finnish manufacturer AMT to sell the AMT 185BR and 170BR exclusively through its UK dealer network, equipped with a Honda BF90 and BF60, respectively. Similarly, it partners with premium fishing vessel builder Westport Marine to market the British-built Pilot 4 and Pilot 6 exclusively with Honda outboards. The strategy currently reflects Honda Marine's focus on its mid-range engine line-up, the overhaul of which has recently been completed with the addition of technologies including BLAST and ECOmo to ensure optimum power and performance whilst maximising fuel economy.
Phil Webb, Head Of Power Equipment for Honda (UK), comments:
"Through our boatbuilder alliance programme we want to work with the best partners possible to deliver the perfect marriage of craft and engine, optimised for British conditions and usage. Through this agreement with Ribcraft we have just that – a superb versatile RIB offering the latest technologies to deliver power and performance whilst maximising fuel economy and emissions. Customers are increasingly looking for complete packages, and coupling the expertise of our boatbuilder partners, our ever-growing and broad range of outboards, market-leading warranty and excellent environmental credentials we are extremely well placed to meet this demand."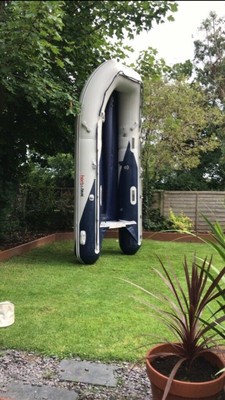 Honwave T35 AE & Mariner 9.9hp
Item condition: Used
Ended: Jul 21, 08:30 GMT