Fish,
Explore, Discover, Learn;
IGFA's new Junior Angler Program
Now kids can get
their hands on fishing on the web – completely free of charge!
Under the tagline
"Fish, Explore, Discover, Learn," the International Game Fish Association is
launching its new Junior Angler program July 15 with a brand new website full of
pro fishing tips and tricks, species id, biological information on marine and
aquatic animals, games, contests, photo galleries and videos.
The IGFA's Junior
Angler and Smallfry World Records will also be featured – but every child will
have the opportunity to brag about their catches, record or otherwise.
"The overall goal
and mission of the IGFA's Junior Angler Program is to get more kids actively
involved in recreational fishing activities," said IGFA Education Director
Dave Matagiese. "By transitioning our Junior Angler Program into a free
online membership format, thousands of children all over the world will be able
to share photos and fishing stories with each other – connecting young anglers
across lakes, streams and oceans."
The Junior Angler
page will be accessible from

www.igfa.org
under the "Educate" tab.
Indeed, being free,
digital and interactive are key new features of the IGFA's new Junior Angler
program. Hoping to reach as many youths as possible, and with the support of
Mercury Marine, Critter Control, Costa Del Mar, Rapala and TakeMeFishing.org,
the IGFA is providing their wealth of resources to kids in a safe and
easily-accessible venue and without charging a fee – a price point parents will
appreciate. Another winning point with parents is the Junior Angler website's
designation as a SafeSite, which means each child's information and experience
is completely protected while he or she is online.
New Junior Angler
members will also still receive many of the same great benefits they had in the
past including free admission to the IGFA Fishing Hall of Fame & Museum,
discounts in the IGFA online store, free access to all of the IGFA Junior Angler
World Records and much more. Combined with all the activities available on the
website, the IGFA is offering plenty of ways to keep kids engaged in fishing all
summer long – and all for free!
###
IGFA
E-memberships now available
Do you find
yourself reading online more often than you pick up a magazine or book? The
International Game Fish Association's new online e-membership may be for you!
Starting July 15, the IGFA will make all of its members-only content available
electronically at a discounted introductory price of just $15 (US). This
web-only membership will offer the same benefits as a traditional membership in
a digital format:
Access to
International Angler newsletter online

Access to
World Record Game Fishes book online

Online access to
world records

Discounted world
record application – $40

Discounted scale
certifications – $30

Unlimited free
entry into the IGFA Fishing Hall of Fame & Museum

10% Discount on
IGFA gift shop purchases

Invitations to
upcoming events

The latest
angling and record-seeking news via email and online
Regularly priced at
$20, the e-membership will be available for only $15 during this introductory
offer. Who said it isn't easy to be green? Sign up for your e-membership today
and save.
To become an IGFA
e-member today, sign up online at

www.igfa.org/members
and begin enjoying your benefits now. For questions or further information,
please contact IGFA Membership at 954-927-2628 or email

[email protected].
###

IGFA launches auction July 17 on EBay store
Beginning July 17
anglers can get a great deal when they support the International Game Fish
Association online auction during National Fishing Month!
Through its EBay
store (http://stores.ebay.com/International-Game-Fish-Association),
the IGFA is offering up for bid more than 20 unique items for the angling
lifestyle. Fishing enthusiasts will find travel packages, Mako and Hell's Bay
boats, original sculptures by world famous artists including Bodo Muche,
Kent Ullberg and David Wirth, plus tackle, rods and reels, Costa
sunglasses, historic lithographs, signed books and more.
Auction items will
be unveiled July 17th
through July 23rd,
and final bidding closes on August 1st.
Fans of the IGFA on Facebook will get a sneak peak of top items during the days
leading up to the auction. All of the proceeds from items sold will benefit the
IGFA, so bid early and bid often!
###

IGFA Meets With Head of NOAA to
Discuss Oil Spill

Leaders in the recreational fishing community
including IGFA Conservation Director Jason Schratwieser and others met
with Dr. Jane Lubchenco, NOAA Administrator and Dr. Bonnie Ponwith,
Director of the Southeast Science Center of the National Marine Fisheries
Service to discuss impacts to the recreational fishing community from the BP oil
spill. A resounding issue in the June 22 meeting was the need to provide
disaster relief to the recreational fishing community, which has an annual
economic impact of $41 billion in the Gulf alone.
Schratwieser
pointed out that, "In addition to disaster relief, there is a need to consider
new management strategies for the Gulf of Mexico, which, even prior to the oil
spill, was struggling with several overfished stocks such as red snapper."

Schratwieser also
stressed that the United States, "must insist on increased conservation measures
for Western Atlantic bluefin tuna at the next meeting of the International
Commission for the Conservation of Atlantic Tunas (ICCAT).
"The Gulf of Mexico
is the only known spawning location for these fish and the oil spill occurred
both in the space and time in which they spawn," he said. "In the meantime, the
IGFA will continue working with the NMFS to help disseminate accurate,
fact-based information to recreational anglers on the effects of the oil spill."
###
IGFA
Education Department News:
IGFA Outreach
Program Receives near $100,000 Educational Grant
The IGFA's
Education Outreach Program is planning for more growth after successfully
obtaining a grant in the amount of $99,794 from the Recreational Boating and
Fishing Foundation (RBFF). This funding will allow the IGFA to further expand
its Outreach Program across the nation to help get more kids actively involved
in fishing and boating.
IGFA Education
Director, David Matagiese said, "The Outreach Program has been a huge
part of the IGFA's mission and vision over the years and this funding will help
us bring our hands-on activities like fishing clinics, touch tank demonstrations
and instruction on knot tying, bait rigging and casting to children who would
not normally have the chance to experience these things.
"By introducing
tens of thousands of children to our sport, we're hoping to not only create
lifelong anglers, but stewards of our natural environment as well."
For more
information about the Education Outreach Program, please contact Matagiese at


[email protected].


————————
IGFA Outreach at
Kid's Fitness Festival July 14 – 15 in Palm Beach
The IGFA Outreach
Program will be attending the Palm Beach County Kid's Fitness Festival from July
14-15 at the Palm Beach County Convention Center in Florida.
Each July, over 6,000 South
Florida youth gather at this action packed event for two days of fitness and
fun! Full of excitement and energy, festival participants have the opportunity
to get hands on experience and develop skills in over 40 different sports
clinics. The IGFA will have knot tying and spin casting target practice as our
activities. Many of the 6,000 children that will be in attendance will be using
a fishing rod for the first time so this is a great event to promote the sport
of fishing.

Each clinic in the event is conducted by
a professional from that sports area. These clinicians share techniques, enhance
skills and provide an introduction to the sport. The Kids Fitness Festival also
features mascots, autograph sessions, special guests, demonstrations and a
midway with a bounce house, rock-wall and mist tent, and much more.

————————

IGFA Junior Angler Summer Camps
underway through August 20
If you're looking
for some hands-on and fun activities for your youngsters, nothing beats the
IGFA's annual Junior Angler Summer Camps with weekly sessions through
mid-August.
Now in its 11th
year the camps are held at the IGFA Fishing Hall of Fame & Museum in Dania
Beach, Fla., offering weeklong summer adventures for children ages eight – 13,
through August 20th.

Campers spend time
in the museum where they learn about fishing techniques, conservation, marine
biology, the ins-and-outs of fish anatomy through dissections, biological
adaptations, tying flies & jigs, fish habitats and participate in simulated
fishing tournaments.
Field trips include
snorkeling, water parks and pier fishing with every Friday spent deep sea
fishing from a 70' party boat off the coast of Miami.
Camp registration
includes a free rod and reel combo, T-shirt, tackle box and camp goody bag. For
more information about the IGFA Summer Camp, please contact Veronica Woods
at [email protected] or visit

http://www.igfa.org/Education/Youth-Camps.aspx
.

###
July
Hot Catches
Several
long-standing IGFA records may have toppled and lead off the IGFA Hot Catches
report for July. International Game Fish Association World Records Coordinator
Jack Vitek updates us with these 10 recent recreational fish catches that
are now before the world records committee of potential new records from
Australia, Japan, the Dominican Republic, Bimini, Costa Rica
and across the U.S.
A
kokanee caught in the Northwest region of the U.S. has fishing writers
talking for a record that has stood for 22 years. Ronald A.
Campbell of Pendleton, Oregon,
USA, landed the potential all-tackle kokanee
(Oncorhynchus nerka) on
June 13, while fishing Wallowa Lake,
Oregon, USA. Campbell's beautiful catch
weighed in at 4.39 kg (9 lb 10 oz), and was landed in five
minutes after the fish took Campbell's Shasta Peewee Hoochie. The current IGFA
record is 4.27 kg (9 lb 6 oz) from Okanagan Lake in
Bristis Columbia, Canada. (Photo: kokanee – 35848)
A dead flying fish
was the bait New Zealand angler Rikki Williams of
Mt. Albert in Auckland used to catch a
50.6 kg (111 lb 8 oz) southern yellowtail (Seriola
lalandi), on March 13 while
fishing Ranfurly Banks, Australia. This potential
men's 37 kg (80 lb) line class record took Williams 15 minutes to bring
in and may beat a 48-year old IGFA record. The current IGFA record is
48.98 kg (108 lb 0 oz) caught off Cape Brett, NZ in January
1962. (Photo: southern yellowtail – 35806)
Japanese angler
Masamitsu Okayama of Iwanai-Gun, Hokkaido,
landed a kitsune-mebaru (Sebastes
vulpes) on May 22, while fishing
Shiribetsu, Japan. This potential all-tackle record fish
which weighed in at 2.8 kg (6 lb 2 oz) was landed in four
minutes after it hit Okayama's soft plastic bait. The current IGFA record is
2.7 kg (5 lb 15 oz) caught in May 2006 in nearby
Setana Hokkaido, Japan. (Photo: kitsune-mebaru – 35836)
A beautiful example
of a silver redhorse (Moxostoma
anisurum) was landed by Michael Romano of
Hudson, Ohio, USA, on
May 30 while he was fishing Michigan's Muskegon River. Romano's catch
qualifies as a potential men's 2 kg (4 lb) line class record on a weight
of 3.74 kg (8 lb 4 oz). Romano was using crayfish for bait.
The current IGFA record is 3.27 kg (7 lb 3 oz)
caught in Sept. 1987 from Rainy River, Loman, Minnesota, USA. (Photo:
silver redhorse – 35847)
Fly fishing off the
coast of Capcana, Dominican Republic, Stacey G. Parkerson
of Coral Springs, Florida, USA,
landed a white marlin (Kajikia
albida) on June 6 to qualify for the potential women's
IGFA 6 kg (12 lb) tippet record that's currently vacant. After a 15 minute fight
Parkerson's fish was weighed in at 21.15 kg (46 lb 10 oz). The
fish was caught on a custom tied fly and Stacey was guided by Scott Jones.
(Photo: white marlin – 35851)
Massachusetts
angler John M. Cole of West Newbury,
guided by R. Andrew Cummings, landed a striped bass (Morone
saxatilis) on June 17 while fishing off
Cape Cod, Massachusetts, USA. The potential
men's 2 kg (4 lb) tippet record weighed 10.43 kg (23 lb 0 oz)
and took Cole 15 minutes to land after the fish hit his
Chuleta Blanca fly. The current men's IGFA tippet record is
8.84 kg (19 lb 8 oz) caught off Misquamicit Beach, Rhode Island, USA
in August 1997. (Photo: striped bass – 35852)
Using ultra-thin
fishing line, Jason Land of Florence,
Kentucky, USA, caught a grass
carp (Ctenopharyngodon
idella) on April 28 while fishing the waters in
Boone County, Kentucky, USA.
Land landed the fish in 20 minutes which weighed 17.35 kg (38 lb 4
oz), qualifying it for the 1 kg (2 lb) line class
record. The current IGFA record is 9.29 kg (20 lb 8 oz) recorded in
August 2005 from the Tamiami Trail in Florida, USA. (Photo:
grass carp – 35837)
Finally we have
three records of interest of anglers beating their former IGFA records. Lady
angler Toquaiah Jackson Carter of
Wormleysburg, Pennsylvania, USA may eclipse
a women's fly record she's held since June 2007. Guided by
Joey Dawson, Ms. Carter landed a yellowfin tuna (Thunnus
albacares) on June 18, while
fishing Argus Bank, Bermuda. Her impressive
catch qualifies for the potential women's 10 kg (20 lb) tippet record after
weighing in at 24.86 kg (54 lb 13 oz). Carter needed an hour to land
her trophy after it took her custom "bad hair day" fly.
The current IGFA record is 24.38 kg (53 lb 12 oz), and has been held
by Carter for the past three years. (Photo: yellowfin tuna – 35889)
Another fisherman,
junior angler Maximilian Hampl of Cartago,
Costa Rica may also have broken his own IGFA fishing record.
Guided by Edgar Montero, Hampl landed a monster sized
almaco jack (Seriola rivoliana)
on June 15 while fishing the Golfo de Papagayo, Costa Rica to
qualify for the potential male-junior record which may beat his old record
caught last year in the same waters. Hampl's catch weighed in at
34.97 kg (77 lb 1.6 oz) and took him 20 minutes to land
after the fish hit his live moonfish. His current IGFA record
is 27 kg (59 lb 8 oz). (Photo: almaco jack – 35873)
Multi IGFA record
holder Roberta G. Arostegui of Coral Gables,
Florida, USA, guided by legendary IGFA
Certified Captain Bouncer Smith, may have
recaptured an old IGFA record by landing a 1.25 kg (2 lb 12 oz)
gray snapper (Lutjanus
griseus) on May 30, while fishing
Bimini, Bahamas to qualify for the women's 2 kg (4
lb) line class record . The fish fought for three minutes after hitting a live
pilchard. The current IGFA record is 1.13 kg (2 lb 8 oz).
Mrs. Arostegui had previously held the record with a 1.02 kg (2 lb 4 oz) gray
snapper caught in the same Bimini waters in June 2008. (Photo: grey
snapper – 35839)

###
Where's
Woz? Closing in on 1,000 species
(w/photos)
Wherever in the
world Steve Wozniak is he no doubt has a rod & reel nearby as he gets
closer to his milestone of catching and documenting 1000 different species of
fish across the globe.
Featured last month
in the IGFA Hot News, the IGFA International Angler Magazine, and
ESPN.com, Wozniak of San Ramon, Calif., USA
has now reached the 990 species mark catching three more fish while in
Oahu, Hawaii at the end of June. Potentially several of his latest catches may
also be considered for new IGFA World Records.
And now the
intrepid traveler has just 10 fish to go.
So far he's visited
61 countries working by phone and e-mail with many ichthyologists and species
hunters to match his trips to exotic new catches.
"A couple of trips
should put me in shouting distance," said Wozniak in a recent phone call. "I'm
hoping to get to Norway, Egypt and to the Andaman Islands near India in the
Indian Ocean in the next several months, so I have a pretty good shot in 2010.
If not, 2011 is the year. It's getting close."
###
Ticket
sales brisk for IGFA Fishing Hall of Fame induction
(w/photo of banquet)
Even before the
official invitations have been sent out the tickets are already selling at a
brisk pace for the International Game Fish Association Fishing Hall of Fame on
Tuesday, October 26.
Five men, from the
U.S., Japan and Britain, all who have made significant contributions to the
sport of recreational fishing, will be inducted that evening as the 12th
class into the IGFA Fishing Hall of Fame and include Yoshiro Hattori, Capt.
Steve Huff, George G. Matthews, John Wilson and Forrest Wood.
The honorees are
selected each year for the significant contributions through achievements in
angling, literature, the arts, science, education, invention, communication or
administration of fishery resources.
The five inductees
and their contributions are:
Yoshiro Hattori
is an honorary member of the Japan Game Fish Association since its inception. A
natural communicator, he is widely known for his television shows "Fishing in
Japan" and "11 PM" where he introduced various fishing reports in
Japan and overseas.
Capt. Steve
Huff, whose innovations include shallow-water boat building, light-tackle
and fly-rod fish fighting techniques, has guided clients to some of the most
coveted inshore world records since 1968. Huff revolutionized flats fishing in
saltwater and is celebrated in the Bahamas, Mexico, the Florida Keys and the
Seychelles.
George G.
Matthews is a big-game fisherman who participated in many of the Bahamas
tournaments during the 1960-1970s. A member of the IGFA Board of Trustees since
1971, Mathews has served as Board Chairman and is a former member of the Florida
Game and Fresh Water Fish Commission.
John Wilson,
a British angler has been a TV personality for 20 years covering big game and
deep sea fishing. Voted "The Greatest Angler of All Time" in a 2004 poll by
readers of Angling Times, Wilson has published nearly 20 books and
authored a column for the newspaper the Sunday Express until 2009.
Forrest Wood
began as a fishing guide on the fabled Arkansas White River, USA. Wood started a
small boat repair business on the side and developed his business into what
became Ranger Boats. Wood and his family went out to set the modern standard for
bass boats, including the first built-in livewell system. Wood validated his
early "built by fishermen for fishermen" ad slogan by fishing the B.A.S.S. tour
for nearly two decades.
Eighty Hall of Fame
members are enshrined at the IGFA including Zane Grey, Ernest
Hemingway, Curt Gowdy, Ted Williams, Lee and Joan Wulff, Michael and
Helen Lerner, Philip Wylie, Bill Dance, Roland Martin, Johnny Morris,
Don Tyson and Stu Apte.
Tickets are $200
and include the cocktail reception beginning at 6 p.m.; silent auction, dinner
and the induction ceremony in the Greats Hall beginning at 7:30 p.m. Special
sponsorships and sponsor tables are available. For reservation information
contact Lesley Arico at 954-924-4222 or via e-mail:


[email protected].

###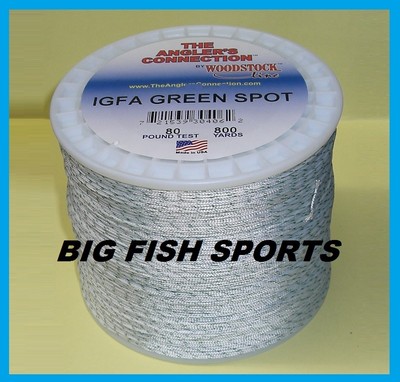 WOODSTOCK BRAIDED DACRON IGFA Pro Power Fishing Line 80LB-800YD FREE USA SHIP!
Item condition: New
Ended: Jul 7, 19:10 GMT