The labour government this week made good its promise to Britain's 3 million anglers to update and overhaul our fishing legislation when it announced in Wednesday's Queen's Speech that the long awaited Marine Bill was to be included in this years legislative programme.
The Marine Bill will establish Marine Conservation zones to protect species and habitats from exploitation and to allow for better recruitment of many fish species. It will set up a Marine Management Organisation to regulate marine activities and help enforce laws to protect the marine environment. The Marine Bill is also the vehicle by which much of the 2001 Salmon and Freshwater Fisheries Review will be implemented. This will include new by-laws creating powers to tackle fish removals and thefts.
Labour's angling spokesman Martin Salter said:
"It has been a long campaign but we have finally got the chance to do something to protect our fisheries, to give the police and the Environment Agency real powers to clamp down on those who remove fish for either the pot or for private gain. The current hotch potch of fishery by-laws are unintelligible and unenforceable and I know for a fact that the EA are starting work on a national catch and release by-law which I want to see implemented as soon as possible. Catch and release must become the norm in freshwater with exceptions available in clearly defined circumstances such as put and take trout fisheries. I also welcome the measures to control the spread of non–natural fish species and to achieve better representation for anglers on fishery committees.
It is hoped that the Marine Bill will start its passage through Parliament later this month and become law by the summer."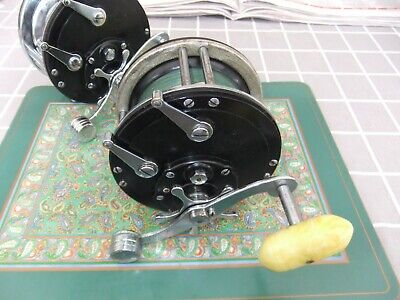 PEN MARINER 49 SEA REEL - NOTE HANDLE STIFF NEEDS ATTENTION - NO 2
Item condition: Used
Ended: Jul 7, 18:39 GMT